Why is it so important to consider NFT Marketing?
Our NFT and all things Metaverse expert Justin Slater gives us insights on the new NFT trends that brands should be aware of in 2023.
NFTs, or 'non-fungible tokens', are one of the critical areas of opportunity for brands in the immediate future. NFTs are digital assets stored on a blockchain, this means that they are unique, traceable, and verifiably authentic. These three factors, in addition to limited runs, have contributed to NFTs becoming incredibly valuable.
The benefits of NFTs are not always explained properly, and so people develop a bias as they get their knowledge from unsubstantiated sources and, as a result, the power of NFT marketing is one that is rarely explored fully.
Brands that think the Metaverse is something to look at in 5 years are missing out on massive opportunities to capture the attention of their customers, who will start adopting these new 'phygital' behaviours that will change their shopper mindset.
In marketing terms, when you understand how NFTs work, it's not hard to see why they are considered the next big thing.
If you need a guiding hand through the Metaverse maze, see our three key areas of opportunity for NFT Marketing in 2023 below.
We know that NFTs are here to stay, and the Metaverse is slowly gaining traction. Brands that don't start taking notice now will be at an immediate disadvantage. 
Here are some ways your brand can use NFT Marketing to benefit your brand.

1. Cheaper and Sustainable NFT Giveaways
As a brand, you are responsible to your customers and the planet. NFTs offer a unique opportunity for brands to give something back to their customers and the environment.
Ethereum is your 'classic' blockchain which the metaverse worlds use most widely. However, it has given NFTs a bad name among the activist GenZ as it used to guzzle energy through it's "Proof of Work" mechanism. Ethereum has just gone green and more sustainable through it's transition to "Proof of Stake" but it's transaction (gas) fees are still very expensive and, as a result, instead of guzzling energy it can guzzle up your budget in the blink of an eye.

NFTs built on sustainable blockchains like Solana have always used far less energy than those built on Ethereum, making them more PR-friendly. They also tend to be cheaper to produce, meaning that brands can save money while running a high-quality marketing campaign.
Brands that run sustainable NFT giveaways will not only be doing good for the environment but will also build goodwill with their customers cost-effectively. 
We can work with you to create a unique, low-cost, sustainable NFT asset that will get people talking online and give them a unique asset to make them feel special and a part of the experience. For example, as shown on nft.coachella.com; this year's Coachella gave away an NFT of a psychedelic flower seed that will blossom every Friday morning of the festival. 

What NFT assets can you giveaway to immerse your potential customers in your brand experience?
2. Bring your brand to life through AI characterisation
Intelligent NFTs are the next big thing in marketing. NFTs powered by Alethia AI offer brands a new way to bring their products and services to life.
These avatars can be used to create digital characters that represent your brand in the metaverse. You can use these characters to interact with customers, provide customer service, and even carry out transactions on your behalf.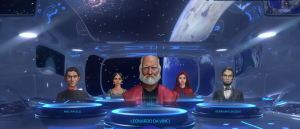 When you're thinking about those classic 'brand personality frameworks' where you answer the question, "who would your brand be if they were a person?" can be answered. 2023 will come with the opportunity of creating a virtual character or brand advocate that will represent your brand in the metaverse. 
These virtual brand advocates can use AI to be trained through self-learning to have conversations with your customers and grow relationships with them through shared interests (think the next generation of ChatBots with no answer restrictions). 
You could also bring content assets or even products to life. Your customers can ask a product about their origin story before purchasing or have a conversation with a skincare avatar about the best products for them (personal online shopping). 
What products or characters can you bring to life online to influence purchasing decisions?
3. How you can inspire brand loyalty through NFTs
It's interesting the way customer loyalty has evolved. Thinking back to the recession, 2007-2009, marketing had to change to keep up; old ideas were abandoned, and new ideas were formed, for instance, group buying.
The idea of group buying started with the launch of Groupon, but now it's not about gaining financially. Instead, it's about adding to a collaborative project. The most recent form of collaboration was the r/place pixel war, where everyone added to a canvas with a digital colour palette. The project ended up with 16 million pixels.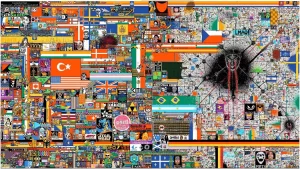 Contributing to something, whether with time, money or being gifted as presents, creates a state of ownership that induces instant loyalty. Now with Fractional NFTs (F-NFTs), multiple people can own a percentage of an NFT with several shares in that asset, making it a less risky investment for those who want to get involved.
F-NFTs offer a unique opportunity for brands to create loyalty among their customers. By allowing them to own a piece of the brand, they will feel more invested in its success and be more likely to support it in the future.
Imagine an iconic brand, something that GenZ admires and aspires to own, like Nike. You could release an F-NFT representing a pixel or part of the Nike logo to millions of potential customers. These people would be more likely to purchase Nike in the future because they feel like they are investing in the brand itself.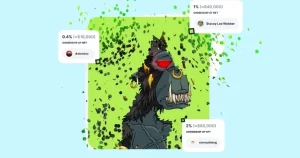 Let's take this one step further. What if you could target digital native GenZ by creating a fractionally owned character? This character could come with an unlocked IP to attract a whole new generation of content creators to make brand content for you. Your character could be from your's brand latest ATL campaign e.g. imagine if people had the chance to create their own artwork or stories featuring Kevin the Carrot?
This character could come with an unlocked IP to create a community of loyal content developers, all making brand content for you. Maybe you could allow  the character from your brand's latest ATL campaign to be owned and played with by your target audience, with maximum consumer input and at minimum cost – now, there's an idea.
What digital asset could you give away as a brand to entice loyalty and creativity with your target audience?
Take Away
As you can see, there are many ways that NFTs can be used to create loyalty among your customer base. Whether through sustainable marketing campaigns, AI characterisation or fractionally owned assets, NFTs offer a unique opportunity to connect with your customers on a deeper level.
If you're looking for an agency to help you take advantage of this exciting new technology, look no further than Apexl and our dedicated team in the Immersion Studio. We take a 'Plug and Play' approach to everything we do. From NFT assets to lightweight pop-up displays, our job is to make yours easier. 
We aim to be a thought leader in NFT marketing and we work with brands who like to experiment with blockchain. We can help you bring your brand to life in the virtual world in a sustainable way, meaning intelligent marketing for the world we live in today doesn't have to cost the earth and it can be very effective for the bottom line.
So what's stopping you from moving forward? Get in touch today on the form below and start planning your NFT Marketing campaign.