Want to be rebellious as a brand? Can you imagine creating an AR experience for all Banksy images to come alive and be shared with your hashtag on social media?…
Distributed Location Based Augmented Reality Solutions for Brands and Agencies
1994 was the year that changed everything; in one fail swoop, Hara Masahiro opened the doors of QR technology to create a new way of connecting people with products. Today, QR codes are utilised in various contexts, from marketing initiatives to product packaging to complete experiences, all accessed via your smartphone.
Apexl Development Studios takes QR technology and runs with it, creating a unique platform that takes any campaign located anywhere and everywhere in a new era of Location Based Marketing.
With the recent introduction of WebAR technology, which doesn't require an app download to access AR content, we're seeing even greater adoption of Augmented Reality (AR). That's because WebAR can be accessed on any browser, making it more convenient and accessible than ever.
Apexl Development Studios is an augmented reality agency; we're excited to see WebAR go even further by introducing location-based marketing with the new launch of Lightship VPS for web. This new type of AR is changing how we interact with the world around us and has limitless potential for event planning and marketing as we can now generate an AR experience from targeting coordinates, anywhere in the world, no triggers or targets needed!
Here's a quick rundown of how location-based AR works and some of the ways you can use it to enhance events…
How location-based augmented reality works
In simple terms, Augmented Reality overlays digital content on top of the real world, using technology that 99% of the population keep in their pocket and use daily – their mobile phone.
When this tech becomes aware of the location context, It could identify places, objects and provide a detailed 3D representation of what's around the user in that specific location. This data then allows us to build immersive experiences that were not possible before (think a real world Metaverse!).
Businesses using location-based AR can target potential customers with content as they enter a specified location. For example, if you're hosting an event at a hotel, you could use geofencing to target guests with information about the event as they arrive at the hotel.
Location-based AR is also great for wayfinding. By placing AR content along the route to your event, you can help guide attendees to their destination and ensure they don't get lost.
And because GPS powers location-based AR, it's nearly 100% accurate, ensuring that your content will be triggered precisely when and where you want it to be.
Where you could use location-based augmented reality?
There are endless possibilities for how your brand can use location-based AR to enhance events. Here are just a few examples:
1. Trade shows and conferences
2. Product launches
3. Galas and award ceremonies
4. Festivals and street fairs
5. Sporting events
6. Retail store openings
7. Restaurant grand openings
8. Interactive museum exhibits
Can you imagine creating an AR experience for all Banksy images to come alive and be shared with your hashtag on social media? Your brand can access the whole new Gen Z market in one stroke.
You could give potential streetwear consumers or influencers the ability to virtually 'tag' all the skateboard parks in the country and share their signatures with friends. You could recreate the famous rooftop gig of 1969 performed by The Beatles on the rooftop of the Apple Corps headquarters or go up-to-date with Oasis on the top of a Manchester hotel. The possibilities are endless.
Take an idea and make it happen – You're a retailer running a seasonal Halloween promotion. You could get customers to further immerse themselves in the experience and drive footfall by turning your stores into a haunted house (from the outside) and winning prizes with exclusive AR games.
Consider the benefits of national parks that want to encourage people to visit. You could offer visitors a unique experience to play AR games and learn about nature to encourage footfall and a fun free family day out.
You're a brand that wants to be disruptive. You could take over Oxford Circus screens with your unique AR experience, hiding the video content. All of this and more copyright free. It's possible, and we can help you to make it happen.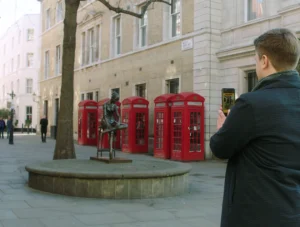 Why location-based augmented reality is the future
AR is no longer science fiction, and the brands that get there first will hugely benefit from the competitive advantage. No one thought Instagram would work as a commerce platform, look at IG now.
Your brand can use AR to improve customer experiences, increase footfall, and ultimately drive sales. And with the release of AR glasses on the horizon, it will only become more mainstream.
But location-based AR is not just about increasing sales or driving footfall – although that is a huge benefit. It's also about creating unique and memorable experiences that will stay with your customers way after they leave your event.
We are so sure that location-based AR is the future. We have invested heavily in the latest technology and know that 2023 will be the year that the four leading tech brands push AR glasses adoption, and AR will become the norm for fact-finding and real-world exploration.
Being ahead of the curve is one thing; curving sustainably is another. Studios by Apexl has a development studio dedicated to combining technology with future planning. Our green Tech will deliver an outstanding product without costing the earth.
We offer a sustainable solution with no physical production or movement of materials cheaper to create. Turning static locations into interactive ones to retain customer attention and interest stimulates brand alignment and penetration of new markets based on the chosen location.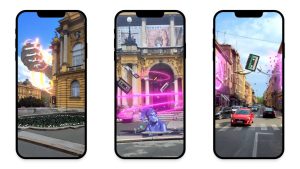 How can I run a location-based augmented reality campaign?
Our Development Studio can set up your location-based AR campaign quickly and easily, without any hassle. We will work with you to determine your brand goals and objectives and create a bespoke AR experience to help you achieve them.
Our experienced developers are familiar with the latest AR technology and can create unique and innovative experiences that will wow your customers. Contact us for your free strategy on how you can build your AR experience.
We will take your idea and run with it. We will work with your brand goals to build the most successful campaign for your company. We are so convinced that we can do the impossible. On top of that, we will….
We will offer you a free strategy on how you can build your AR experience.
We will work with you to create the experience based on suggested locations.
We will help you with marketing launch materials.
We will send you the stats based on engagement metrics.
It's as simple as that….
Apexl Studios offers location-based AR that takes event planning to another level. We provide end-to-end services that take the stress out of digital and deliver impactful online experiences. Our teams are digital experts in their fields that cultivate ideas with our clients to develop innovative solutions that work.
Contact us below to see how you can achieve your brand goals with a location-based augmented reality experience for your business.
About The Development Studios
Our Development Studios deliver digital experiences for your brand that work. We provide end-to-end services that take the stress out of digital and deliver impactful online experiences. Our teams are digital experts in their fields that cultivate ideas with our clients to develop innovative solutions that work.